If you've been following my blog, You'll notice how I tried my best to let my readers know that they can make money teaching kids online. And it's not as hard as most people think.
One of the main reasons why I do this is very simple. It's so fun! Imagine this, I'm making money in the comfort of my home, wearing my PJs, and get a lot of laughs every day.
I often get complaints from my friends about their jobs like commuting, traffic, VLs, no time with their family etc. And they would often tell me that my job seems to be very hard. That's a big no.
Remember, "You are not teaching MATH!! This is pretty easy. Especially if you love kids. And the darnest things they say out of the blue lol! And most of the companies I recommend are those with prepared lessons already so you don't need to prepare it yourself.
You are very lucky, years ago tutors like us need to search through the internet just to get the most applicable lessons for each student. Now, companies like SayABC, Magic ears, Qkids and now Gogokid has set up and prepared everything for you.
So, here's another online ESL school. (My Gogokid review) you may want to check out. And earn at the comfort of your own home. They even offer $300 bonus for new applicants. So better send your resume today.
Gogokid is a pretty new company. But based on teachers hired, They're enjoying it so far. The company believes that integrating technology and education will revolutionize language learning.
They offer one-on-one lessons based on the US common core standards and the Chinese standard curriculum through a virtual classroom infused with cutting-edge AI technology.

What does Gogokid offer?
It has a competitive pay rate– Their hourly rate is $15-$25 USD- payment commensurate with an education background, teaching experience as well as interviews. Additionally, they offer up to $300 bonus to new teachers. This is limited time offer so better apply now.
Flexibility– Teacher's can work from any locations with computer and internet access. You can teach at your own schedule. But the following tends to be the most requested time periods in Beijing time: Monday-Friday 6-10 PM and Saturday-Sunday 9 AM to 10 PM. You can choose your consistent availability within this time frame.
Curriculum– They provide original and professionally developed lessons adapted from the common core standards in the United States and aligned with the teaching objectives of China.
As I mentioned earlier, This is pretty awesome as you don't need to prep lessons with each student because the company provides.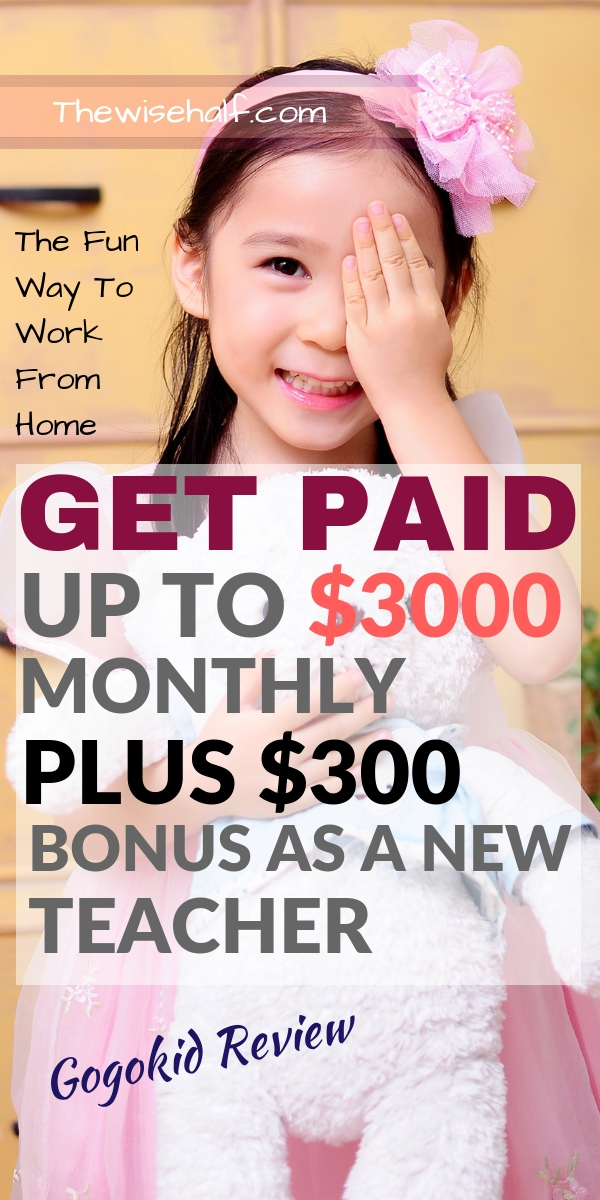 What are the requirements?
– Native English Speaker
– Bachelor's degree
– Eligibility to legally work in the US and Canada
– Teaching Experience
– Certificates are desired but not required.
What is the application process?
Applicants will need to go through five steps prior to becoming Gogokid teachers
-Complete an online application (Sign up + Basic Information)
-Schedule an interview
-Attend an orientation
-Submit the paperwork
-Sign the contract
New teacher's experience:
Based on my research from new teachers of gogo. If you didn't receive an email within 48 hours or so. Try to sign in to your account and schedule an interview time with them. You just need to choose a time that suits you on their available interview time slots.
They also mention that the demo is pretty easy so don't be nervous. They will guide you all throughout the process. At the same time, you might be lucky as they give $300 bonus to new teachers. And this is limited time so you can apply here! Best of Luck!

Related Articles:
Photo by kazuend
and DAVID ZHOU on Unsplash