As promised, I did my homework researching, checking and double checking all the online English schools that I come across, as well as the following teaching apps that I listed below. Before I post all the schools that most of you are asking me on my email. I've decided to post a list of teaching apps first. Why?
Because I noticed that most people who want to start teaching from home don't have experience teaching English at all. Most of these apps don't require applicants to have experience or degree as long as you speak English very well.
While most of these companies allow teachers to just chat with students. Some still focus on giving learners what they ask for. And based on my experience most students wanted someone to talk to so they can practice their English speaking skills.
Some of the apps here still looking for experienced native English speakers. But most of them don't. So it's a great opportunity for non-native speakers to start teaching English online. Especially college students who need some side hustles while studying.
This a very good way for people to gain experience. I noticed that the top main reasons why applicants failed to get accepted in different online institutes are no experience and not degree holders.
So what could be a better way to get around this is to start with a teaching/chat app that offers people a chance to speak English with different learners from around the globe. Making new friends, Learning new things and most of all making money. And not to mention the convenience of teaching with the use of your mobile phones.
Here are 10 Online ESL Schools that use phone apps to teach.
1. Palfish– I have to start with palfish. I know that there are a lot of changes with them lately, but you can still give it a try. I worked for them a couple of years back and it was fun. They pay on time, and I made a lot of new friends. You can check my review here.
2. The Talk List– Just like Palfish, You just need to create a profile and teach. They don't require experience nor degree. They accept native and non-native teachers. Pay is about $10/hour. Their students are mainly adults.
3. English Ninjas– This school requires experience and certificate and focus mostly on Turkish students. If you're interested you can give it a try. It's a US based school and pays $10/hour through Paypal.
4. Boxfish- Another China-based company that looks for Native Speakers only. But they don't require a degree as well as experience. They pay 10$ per 25-minute class. A fast and reliable internet is very much required. So although you can teach conveniently. I suggest teaching from home instead of cafes.
5. Tandem- Here's another interesting app. This company is based in Germany. By the name itself tandem. Students can find a tandem that speaks their target language so they can chat with them. They teach multiple languages. If you're a bilingual teacher you can earn more.
6. Liulishuo – Referred by a friend, I remembered I was accepted here. But since the app is in Chinese, She translated it to me. The application process was not that hard. I never get the chance to actually start teaching because I was busy then. They accept native and non-native speakers. Experienced is preferred but not a requirement. I will try to apply again and make sure to update everyone.

7. VIP talk– This company accepts native and non-native speakers. Although they require degree holders with experience. I found out that they still accept non-degree holders as long as you speak fluent English and has the passion to teach. Pay varies on your ability. If you have experience with VIP talk. Feel free to comment.
8. Tutoring Lab– They accepts native and non-native English Speakers. They accept degree holders or college students. Pay starts $10- $14/ hour. They focus mainly on Korean students. Payments are sent monthly through Paypal.
9. Nice Talk– Nice talk only accepts native English speakers. Experience is not necessary as long as you speak English fluently. Pay starts at $10/hour. But then again they pay by the minute so, even if you just have a 15-minute class you still get paid. I noticed that VIP talk looks a lot like nice talk. So I guess if you're non-native you should apply to VIP talk instead. Paypal is their mode of payment.
10. Cambly– This company has been around for years. And although they have mixed reviews I still put them on the list. Some teachers have good experience with them. Some don't. I just noticed that they have seasons where there are a lot of students and there were times that they have few. But still, it's a good way for native English speakers to chat and earn some money as well.
These are just a mix of new and old teaching apps. You will notice that few apps have been around for years. It means either two things. They have a tremendous number of users or they have been established because people found them useful. Some of these companies may have mixed reviews, But there's no harm if you'll try. You might find one that fits you and your lifestyle.
If you want to start teaching but have no experience? or you haven't finished college. You can try reading my previous post. "How to teach English online for beginners". This will give you an idea where's the best place to start as well as giving you some ideas where to get lessons to teach.
To sum it all up. I often tell people to always try new opportunities. I was once just like everybody else trying and sending applications to different schools. Just don't give up. It's really up to you if you would give this list a chance. You never know it unless you try. Best of luck!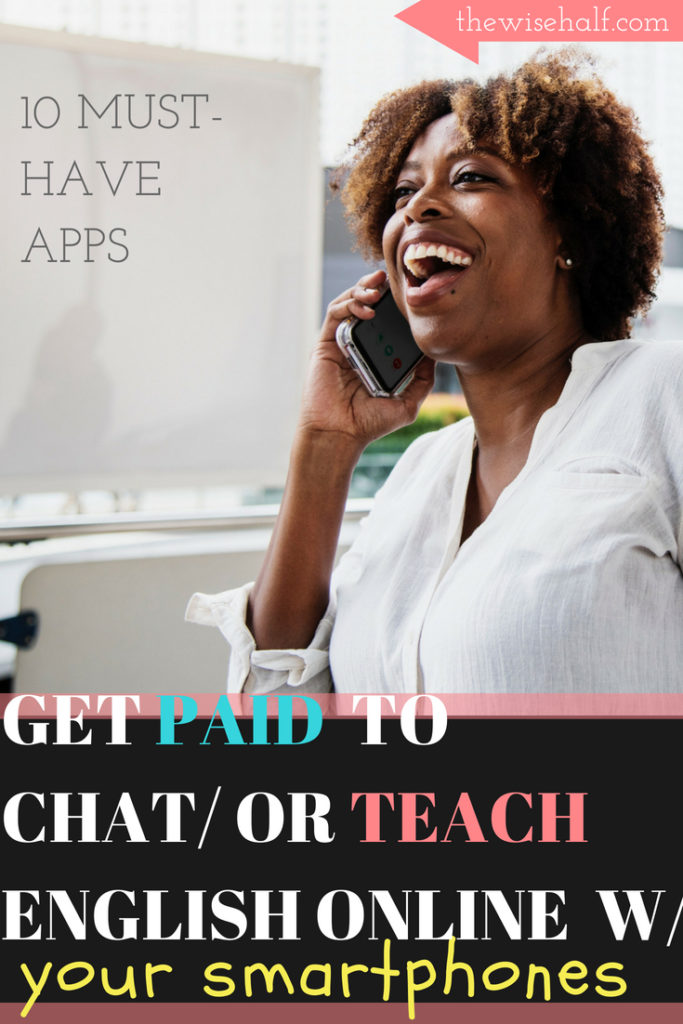 Related posts:
Get paid to teach English online with or without a degree. 10 ideal companies to work with.