Here's another interesting work from home opportunity that you may want to try. How would you like to get paid to transcribe and score children's reading test? (short recordings). I've read Literably a couple of times with home-based forums and I wanted to try it myself. I think it's a nice fit for entry-level applicants. You can get paid more as you speed up and gain experience. Let me walk you through the process I've been so far
What's the job?
You'll listen to children's recordings and you will be given the full text of the reading. You will assess them by replacing the words, adding, deleting and typing the exact words you will hear. And then score them based on their reading skills. If you have experience with transcribing jobs, this would be easy for you. But if you have none, It's not a problem. It's not a full transcribing job because you won't type the whole thing, just the reader's mistakes.

Mistakes mean words, sounds, letters that aren't in the reading material but was pronounced. And you'll also type words that are in the reading material but wasn't read. You don't need any work experience because you will have a bit of training. Sending a resume is optional because accepting new applicants are 100% performance based.
How to apply?
– You need to sign up as a transcriber/scorer.
– Read and follow the instructions carefully.
– Transcribe 6 training recordings. This will only take around 30 minutes to finish.
Everything you need to know is on the application process page, That includes how to transcribe a recording. Which teaches you to use shortcut keys where you can easily type in/ correct the recording.
How to transcribe non-word recordings.
Because you will be listening to mostly elementary school kids recording. There will be a lot of utterances that are not really words. You have to transcribe the sounds phonetically. They will provide you with a phoneme chart that you can use as well as videos on how to pronounce them correctly.
Here's a video demo that you can use as a guide and will also give you an idea on how to transcribe the recordings the Literably way.
Honestly, I think that it's one of the easiest platforms to use for transcribing audios. Literably is open worldwide. I remember when I log-in to my account and read some details, the rate that was posted on my account was written in our own currency. (Philippine Peso) Although the US rate is $10/hour you can get up to $20/hour. Payments are sent through PayPal.
Here's an image of a sample transcription in Literably.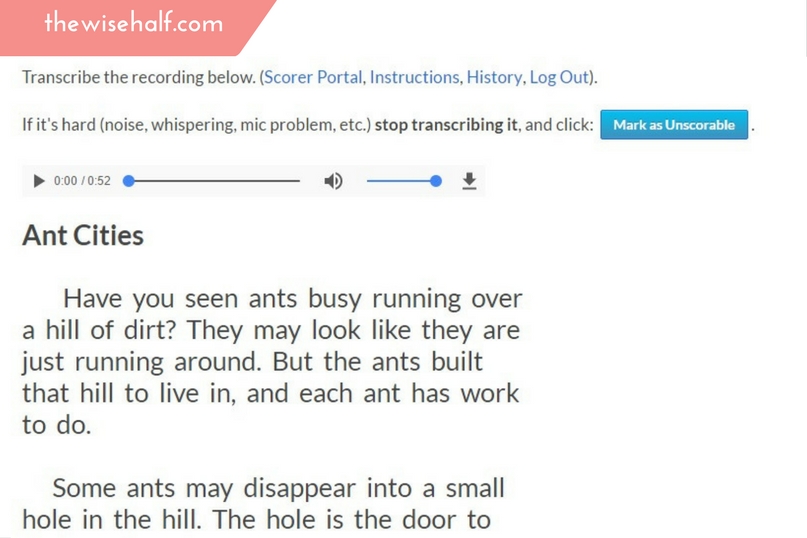 The company states that there will be few voice recordings available from the last week of June until the first week of August, as well as Thanksgiving and Christmas. And the highest price/rate and volume are usually around February, May, September, and October.
Although they still hire all year round. So, I think this week is the best time to apply because there is enough volume of work waiting for transcribers and they are at it's highest rate as well. 
This job may not be for everyone, but then again they hire based on performance and don't need experience. You might want to give this a shot. And you might be surprised liking it. Good luck!
Related Articles: