Okay, so I can't believe my eyes when my Pinterest pageviews skyrocketed from 600k to 1 million monthly page views. And what so great about it? It happens in less than 2 months. Some of you might be asking me how long have I've been blogging?
This post may contain affiliate links see affiliate disclosure here. which means I may receive a small commission for clicks made through my links. they are good products and all our opinion and suggestions are unbiased I only share products and services that I use, trust and love.
Alright, Let me tell you a short story (promise, it's really short no whining and ranting involved). I started blogging over a year now. In my first couple of months, I got pregnant not knowing that It'll be a sensitive pregnancy. And because it was a delicate one. I had to ditch blogging for about 13 months (a dead-like blog for a year) I think.
Left my blog in the dark (my poor blog). I tried my best to post once in a while, do some traffic, pin etc. but tiny baby won't let me. So my doctor asked me to just leave the blogging world for a while.  Which is sad of course.
So, when I came back. (Started "real" blogging last March 2018) I wanted to do something different and focus on building my traffic. Hence, I started by getting back my readers once again. Make some decent amount of money and share this knowledge fast.
Now, let me put it in a beginners perspective. If you are a new blogger. let's say, doing this strategy can give you from 0 to 400k Pinterest monthly pageviews. This is absolutely possible in 2 to 3 months. If,  you will do it the right way.
And so, that's the reason I wanted to share my experience, while you can skip the slow process, (my mistakes) and go straight with these proven steps.
Here's the screenshot of  my traffic before: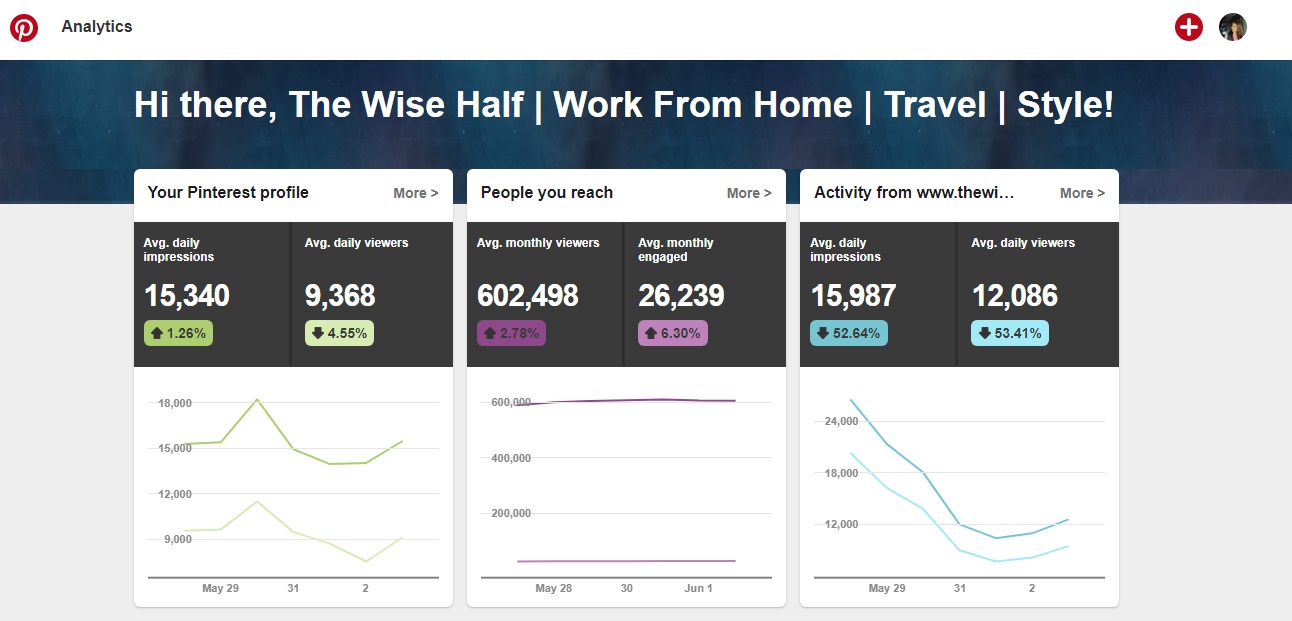 Here's the after screenshot.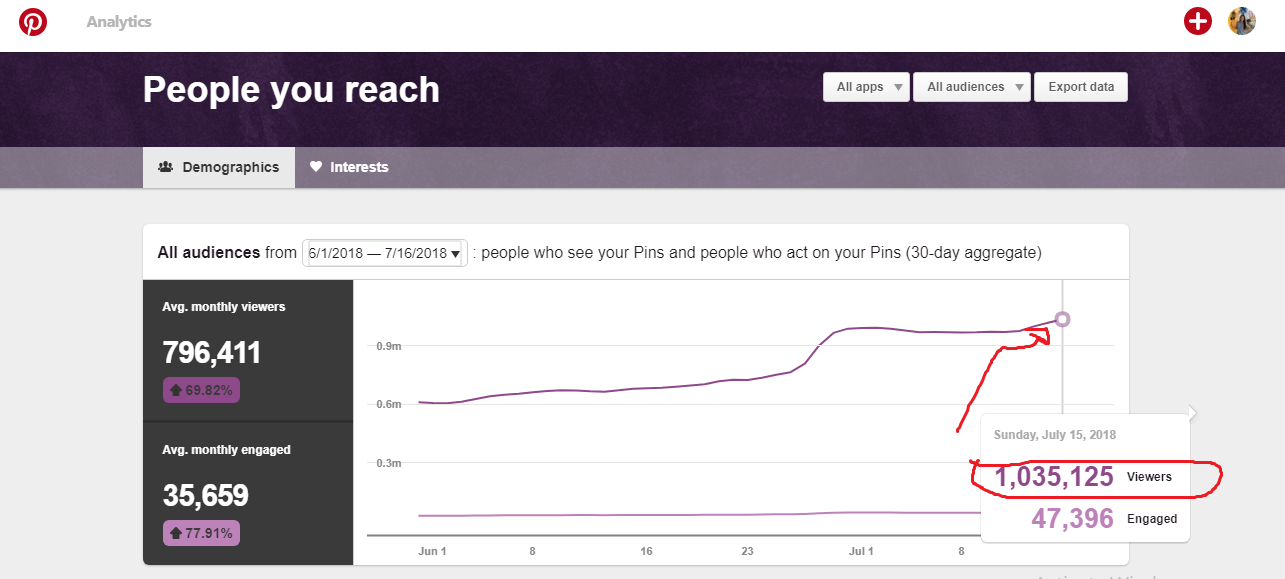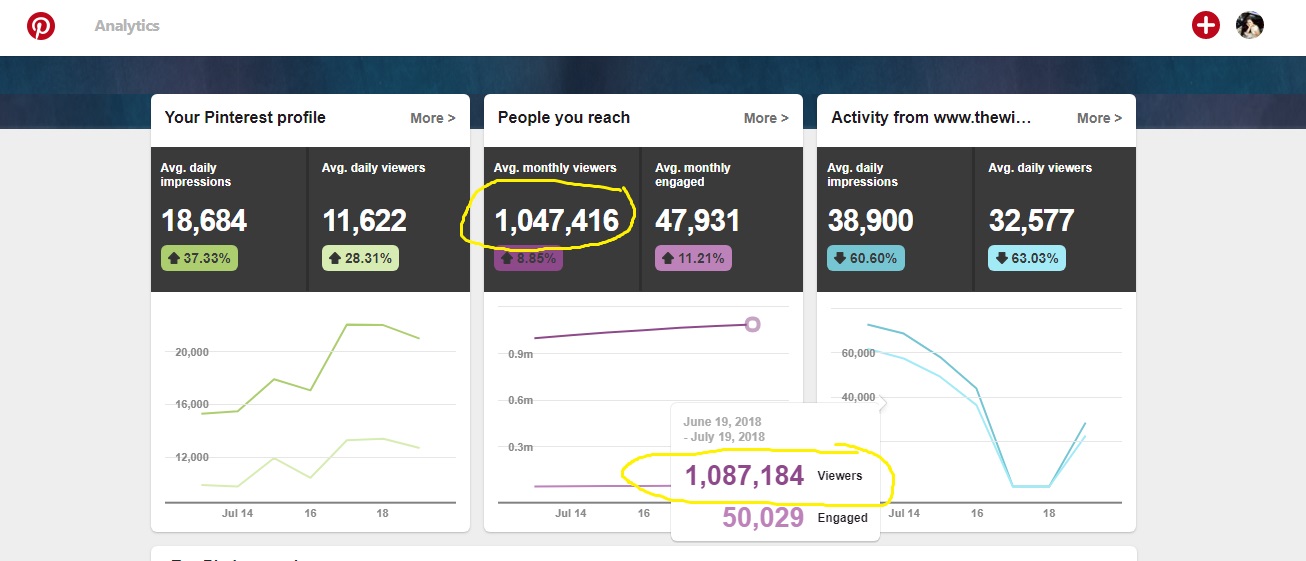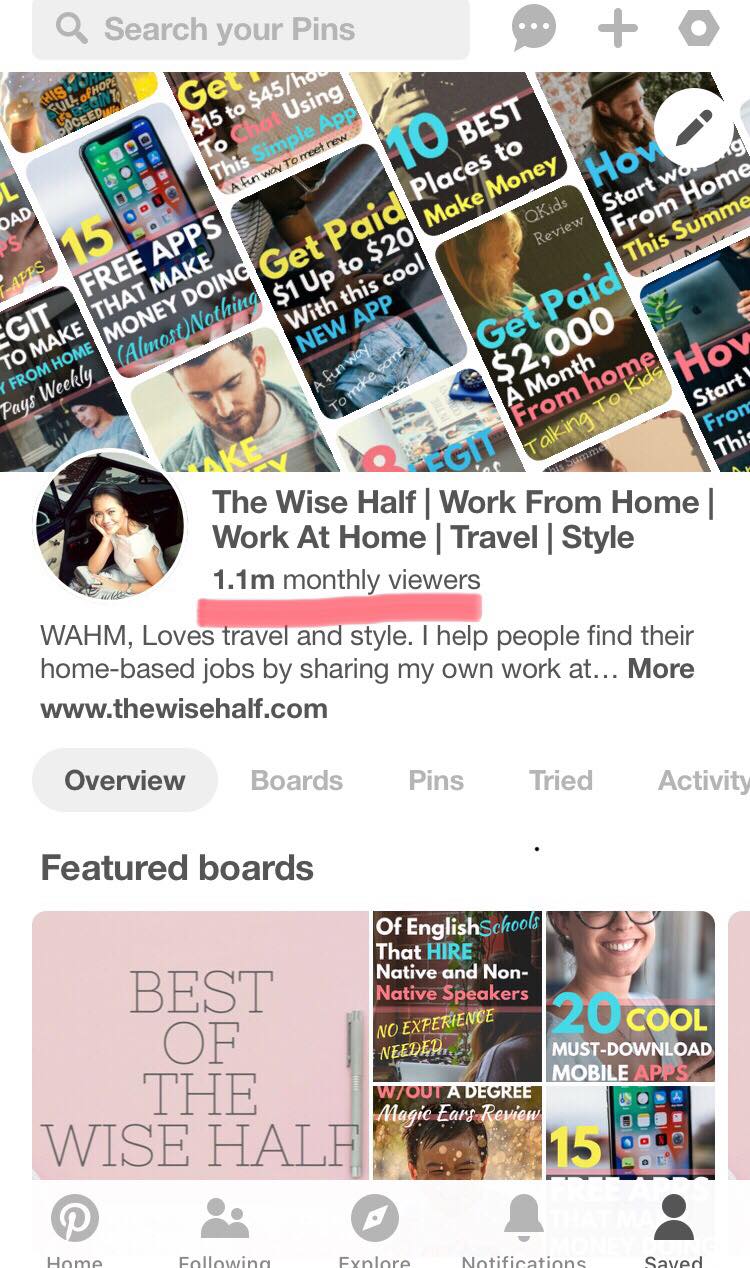 Pinterest-
Focus on Pinterest. Why? One of my biggest mistakes, when I started blogging, was being overwhelmed with all the social networking sites.
I wanted to use them all. (yep me being stupid) I was all over twitter, facebook, IG, stumble etc. And so I learned it the hard way. I realized that I need to focus on only one. Which is Pinterest and by the way, it's more like a search engine like Google, than a social networking site like that of Facebook.

Here are the simple, yet effective steps on how you can grow your Pinterest traffic.
1. Create a Pinterest account.
Or if you already have one. Switch to a business account. This is free and easy to do. A business account will let you connect and claim your website. This will give you the access to your Pinterest analytics which will be your best tool to check your Pinterest traffic. It has everything you need.
Pinterest monthly pageviews
Profile pageviews
Engagements
People you reach
2. Create Awesome Pins.
Now you probably heard this over and over again. But this is one fact that I cannot just skip and forget. Everybody needs to know. Make your pins stand out!
Click-worthy, stunning, eye-catching. It doesn't necessarily mean that you have to use all the bright colors in one pin. Try to test out which pins give you the most clicks and saves.
Create pins that are Pinterest friendly. Years ago tall pins are the best choice. As it's the first one to be seen, attract readers and such.  But nowadays Pinterest recommends 600px wide x 900px high. My pins are a combination of tall and Vertical pins and each pin performs differently. So you have to keep testing which ones works best for you.
Make sure to create at least 2 to 3 pins each post. Test which pin gets the highest saves and clicks and consistently pin that to your own niche boards, and different group boards.
3. Set up your boards, your own group boards and join other group boards.
This is essential. Having boards related to your niche tells Pinterest what you are pinning. Pushing your pins to the niche people are searching. It's a must to create at least 10 boards related to your niche. For example,
If you're a fashion blogger.
Set up boards on blouses and dresses, makeup, shoes etc. Join Active Group boards only. As the Pinterest change, we all need to adapt to that change. Group boards with hundreds of contributors may not be always helpful.  Make sure to find group boards related to your niche. How to find group boards?
1. Go to Pinterest and search for a word from the search bar related to your niche and filter it by clicking group. Group boards related to your niche will appear.
2. Check other blogger's group boards and apply to each one of them ( just make sure it's related to your niche)
3. Go to Pingroupie (it's up and running again) and search all boards related to your niche.
Make sure to list all the group boards you applied to. To track each one of them. (Which accept and which didn't) If you email/message has been ignored. Try again after a few weeks. Big bloggers are often busy and received tons of emails.
4. Start Pinning
Honestly, my traffic was doing great but it wasn't this awesome until I read this super easy millennial way of 
manual pinning ebook
. If you are a beginner and have zero idea how manual pinning method works, and the ins and outs of it. You better start with this.
One of the best parts about this ebook is it constantly changes when Pinterest change. So you will receive notifications if they need to adjust some things. Which make the method even more helpful.
There are a lot of ebooks about Pinterest traffic strategies, Manual Pinning etc. And I know they are effective in their own way. But Let me tell you something you all can relate (I think) If you're a super busy mom, A college student who have so many things to do, A working dad etc.
This is absolutely perfect for you. I have three kids, my youngest is just an 11-month old acrobat (lol). I can't afford to be always in front of my computer pinning for the rest of my life. ( although I love Pinterest) I have to cook, clean, breastfeed, feed the husband etc. Just like everyone else, the easiest and most convenient way to pin is through my smartphone.
That's how this ebook changed my Pinterest traffic and brought tons of new readers as well as sales. I can't thank Kyla enough for this ebook. I encouraged you to give it a try 
check it out here.
5. Schedule your pins
Now, of course, There are many days that you can't even touch your phone or check your emails with your computer. Here comes the best Pinterest scheduler in town, 
Tailwind
. It helps you schedule your pins in advance so you don't need to worry about pinning all the time. I usually just give my self an hour or two / week to schedule my whole month of pinning. Isn't that great for busy bees like us?
Just create an account at
tailwind
and you will receive 15 days
free here
. Why you shouldn't underestimate the power of automation. I used to be a board booster fan because of their looping feature. But I didn't know Tailwind has so much to offer and they are continuing to add features.
One of the best thing about tailwind is their tribes. It's like sharing your own pins with your tribemates. It's an additional traffic once again.  Once you get the hang of tailwind you will see a big increase on your Pinterest Traffic. You should definitely give it a try, Create an
account here on my special link
and get a month free.
If you want more detailed steps on how I skyrocketed my Pinterest traffic to 1 million. Subscribe to our mailing list below and get this 3-day email course on How to skyrocket your Pinterest Traffic absolutely free. This e-course includes powerful tips on how I adjust on the new Pinterest Changes. If you're not happy you can unsubscribe anytime.