2018 Updated
This is one of the most convenient ways to teach English that doesn't need a degree.  After setting up everything you need. You can teach English anywhere, anytime. Many online English schools nowadays cater to most Koreans, Japanese, and Chinese. And they use Skype as their major means of communication and some other platforms comes in second.
This post may contain affiliate links see affiliate disclosure here. which means I may receive a small commission for clicks made through my links. they are good products and all our opinion and suggestions are unbiased I only share products and services that I use, trust and love.
Palfish, on the other hand, is an app that's more than just a free video/messaging software. It has a lot of awesome features that make teaching pretty easy. It can store English lessons so you don't need to open a lot of apps while teaching. I also want to point out that most of the time my students just want to chat. They just want someone to talk with in English. So, It's like just chatting and making money.
You can schedule your available time so students can easily book you in the future. It also can help you book a schedule for specific students, this cool feature can help you gain regular students. You can earn an average of $15/ hour to as much as $45/hour.
This app is available worldwide. Thus, making it easier to teach English anywhere you are in the world. They have a pool of Teachers from US, Canada, Australia, England, Philippines, Singapore etc. They're not looking for Native speakers only. As long as you're good at English you're good to go.
How to get started? 
1. Download the Palfish app Here.  Or go to app store/play store and download the Palfish teacher app, not the student app. Create your account.
2. Fill out all the information needed. Try to write a very good introduction in the bio section. Make sure that you encourage the students to choose you. Make it a point to sound interesting and fun to talk to. Remember, There are hundreds of teachers, so make an effort to stand out. And, It should be more than 100 words. It needs to include the following:
Your name
Your nationality
The college that you have attended or attending.
Teaching experience if you have (recommended but not necessary)
What can you offer (This is where you put your encouraging words and interesting points of yourself)
To make you feel better, new teachers are featured on the student's app.  So there's a big chance that you'll receive calls right after your account is approved. And there are thousands of students from China and the world. As they say, there's a lot of fish in the ocean.
3. Upload a pleasant profile picture. Some students told me that they like to call teachers with a charming smile and not those with a very intimidating look. So smile with all your heart. Make sure that the picture is yourself not anyone else's. It's a clear photo that people could recognize who you are. And you are the only person in the picture. Some teachers upload a selfie with friends on their background, Don't use those pics.
4. Upload a voice recording- You can just easily read your bio and record it or record a new one. Make it a point to sound happy, lively and encouraging, but not to the point that you sound like a squeaking pup, (too high pitched). Just a normal Speaking voice will do. Remember the following:
It needs to be longer than 30 seconds
The recording is clear (very important)
You need to showcase your English pronunciation and proficiency. (Make sure you don't speak too fast)
Talk about your specialty
5. Wait for the admin to verify your account then you can start teaching.  If your profile is incomplete. (no profile picture, Short introduction) Chances are you won't get approved.

Things to prepare:
1. High-speed internet– A slow internet may cause frequent disconnection while having classes. And or student won't be able to call you even if you are online and free to have classes. Again, I want to emphasize on this. You will not appear available/online if you have a slow connection. It happened to me before, A couple of my students told me that they didn't call me that day as I appeared offline to them. Another one told me that she tried to call me many times but I didn't receive any calls from him.
2. Smartphone with front cameras and headphones– Some students like to see their teacher's faces while having classes but don't want to show theirs. While others prefer not to use the camera and wouldn't mind you turning off your camera as well.
3. English lessons – It's better safe than sorry. Although most students wanted free-talk. Some of these students will definitely call you again especially if they like you. So it's better to save some lessons to your phone. There is an ocean of lessons on the web. Just make sure to choose the ones that are not so complicated especially if you are not a Professional English teacher.
Pros
1. Available worldwide
2. Pays on time through Payoneer. Monthly.  If you don't have one just go to Payoneer and create an account it's pretty simple to make one. They will even send you your own ATM card that you can use to withdraw money anywhere you are in the world, You can open an account here.
3. Flexible hours- You can teach anytime your free. But you have the option to
book some regular hours for your regular students.
Cons.
1. App sometimes has glitches.
2. The updated version may not be compatible with some smartphones
If you think this side job fits you. Then go ahead and download the
Palfish
app.
Here's a screenshot of my payment proof. As you can see it's not much because I only teach twice a week and or just an hour or two. But if you do this consistently you will earn more for sure.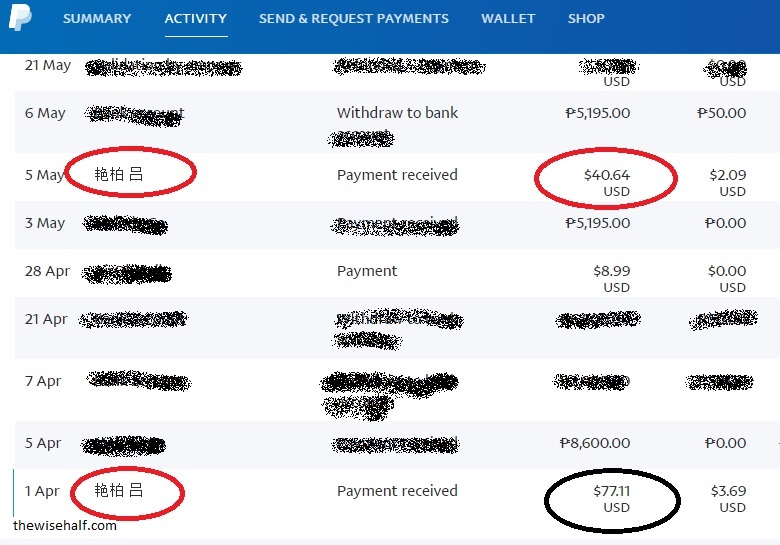 Palfish
has gone through too many changes recently, I'm pretty sure it's for the better. Like payment method, in-app English lessons.  Updated teacher's and student's profile.  If you think that you are very much qualified but didn't hear from them. It's because they have a massive pool of applicants. I hope that they are trying to work these things out. As they have a huge number of students. So don't lose hope.
Recently, I came across a number of new teaching app. Mostly based in China. Like what I've mentioned. China has a great number of learners of all ages, so new apps and institutes will rise and I will make sure to try and test them out for you guys. See you in my next post.