Blogging.  A whole new experience of making a passive income. Why should you start a blog now, and not later?  Many reasons. Reasons that I didn't know when I was younger. But as we aged we mature (Yes, I think I am now)And we get tired of this fast-changing world. I really wish someone would have told me these things a lot earlier.
Things that I should've known and should've started blogging my heart out. If you have read my "About me" page you'll have an idea of why I started blogging. And some of the few things that hinder me physically and emotionally.
If you're still young, you should take advantage of it. You're very lucky, Starting a blog nowadays is pretty easy. There's no perfect age to when you should start a blog. But, If you're not ready, read on and you might think about starting a money-making blog.
Time.
Remember that blogging is not just for people who have all the time in the world. Who says stay-at-home-moms have all the time in the world?! I have 4 kids! (husband included) The best free time I have so far is in the shower.
Bloggers are from all walks of life. When you start blogging, and you start earning real money. You now have the power to either quit your day job, start your own business (besides blogging), Start traveling and all sorts of things that your regular job is holding you to do.
It's for your Family.
When you blog, you work from home (most of the time). And you're around your family. Even though it's kinda hard to focus when everybody seems to be screaming their needs and wants. There's still a big difference between working from home than in the office.
When you are stressed, You are just a hug and kiss away from your kids, your ever supportive mother, your loving husband, crazy sister, sweet pups, etc. You're even just a cartwheel away from the fridge (yes it's part of the family)
When they needed you, which is more likely to happen. You're there period.
Noob-Friendly.
If you'll search the internet you will notice that a large number of bloggers are either superhero moms or working students. Why? Because you don't need a diploma to be one. Or any special skill to be an inspiration to others. You are the director of your own movie. It's not as hard as most people think. You just have to these three. Patience, Passion, and Prayers.
The internet is a big pool of successful bloggers that you can follow. I was inspired by many big bloggers that are willing to help and guide you. That's how I started.
Be an inspiration.
When you blog you have to consider what you are passionate about, Some says to follow your heart. Some say blog about what's making money. I say if you can do both, Go for it and don't think twice.
Especially if you have so many good things to share and that your chosen niche is a popular one. For example, if you have the love for cooking, baking, then blog about it. Share your best recipes, your readers will thank u for it.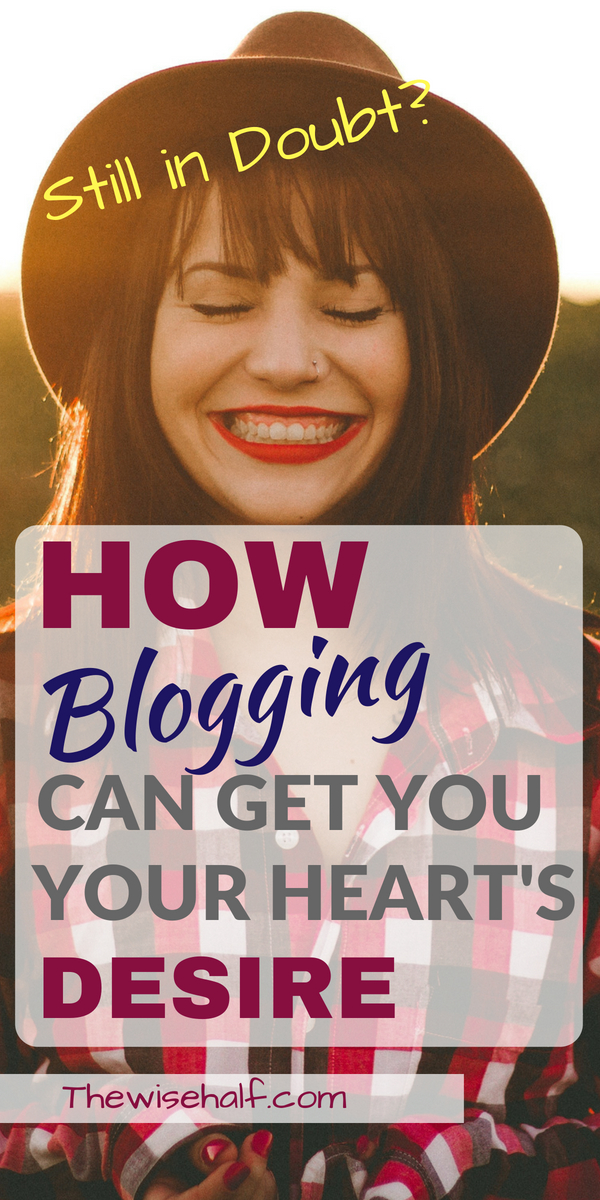 Helps you with your financial needs.
Nowadays, you can make money by blogging with a small and I mean really low investment. and you can start right away. There's a big possibility that blogging can help you pay your bills and debts. As you grow you can invest more for yourself and your blog.
The advantage nowadays is you can easily learn everything from the internet. You just need to be smart and organize your way. And when you earn more, You have the power to shop til you drop! Seriously, You can save money, invest and start your own business and create the lifestyle you've been always wanted
So these are the reasons why blogging can get you your heart's desire. When you blog you inspire, help people, You have more time with your loved ones. You have the chance to earn more than a regular day job and be financially free, You can finally own your time and you are your own boss. This is what most of our heart's desire. It's possible.
And with prayers your on your way up.
Now, if you still have questions, like:
How can I start?
What should I write about?
Should I choose one topic? Or can I write about anything?
My next post will guide you to each and every step on
how to start a money-making blog without taking an e-course
( although this is also essential as you grow) yet. I will help you decide so please subscribe as I will send you a reminder once it's live. Will also send you a roundup of my blog posts about work from home ideas.
I hope this post somehow help you decide. If you want to start a money-making blog in minutes you can check my post so you can create one now
just click here.