One of the main reasons why people don't earn that much from free paid surveys is the lack of strategy, and not being organized. Have you ever wonder why some people actually earn literally hundreds of dollars from surveys?

Simple. It's because they are organized, applied specific strategies and they just don't quit. I will give you all the steps you need to make the most out of surveys and give you the chance to earn from this particular side job.

Now for some people, surveys are a turn-off. I just learned it's because they are either too busy to take them, or they just don't know it's earning potential. Okay, so before I continue I just want to share something.

When you work, you're pretty busy most of the time. Side hustling seems to be impossible for most people especially moms with super quiet kids like mine. And students with neverending homework.

This post may contain affiliate links see affiliate disclosure here. which means I may receive a small commission for clicks made through my links. they are good products and all our opinion and suggestions are unbiased I only share products and services that I use, trust and love.
Most people have no time to undergo training or start a blog etc. And so surveys and cash back apps could be perfect for those people. What if you can make it even more convenient? So later, I will give a list of legitimate survey apps and sites that you can begin with.
While most of them are apps, I added some other survey companies to increase your potential earnings. Remember that people who earn a lot from this kind of side hustle are the ones who patiently join a number of sites and take all the available surveys in a particular day.
Here are the steps you should take if you want to earn more money with free paid surveys.

1. Create a specific email account

How can I emphasize this more? You have to. Unless you have an email account that has been sitting around for years and doesn't receive many emails. The reason for this is that you are focused that this particular email is made especially for surveys.

And If you will use your main email account. You might miss some opportunities from survey companies because it got lost with the number of emails coming into your inbox daily

2. Join free paid surveys that are legit.

Joining legitimate surveys aligns you with the high earnings and more survey potentials as well as no scam opportunities. You don't want to be in a middle of the survey and when you're about to redeem your earnings,

the company won't send you the money for some unknown reasons. Don't worry I got you covered. Just read on and later you will see the list of survey apps and sites that are perfect for beginners.

3. Complete your profile and make sure to always update it.

Profiles, locations are very essential with free paid surveys. It tells the company if you are qualified or not simply because of your location, age etc. Make sure to always update it, you don't want to miss survey opportunities just because you didn't put your legal age or exact birth date.

4. Make sure to fill out all the necessary demographics

Don't be too choosy. Make sure to add as many interests as you can and everything in between. Even if this interest is the least of all your interests. This open doors to many survey opportunities. If your demographics are limited. Expect very limited offers as well.


5. Check your inbox on a regular basis

Most of the email platforms nowadays have its own apps. So all you got to do is to turn on the email notification on your phone, so whenever there's a new survey on your inbox, You can immediately take it within a matter of minutes. Increasing your chance to get the best surveys from your location asap.

6. Answer the available free paid surveys asap.

Okay, this doesn't mean answering them in a very fast way. It means that if there's an available survey offered, go ahead and grab it. Don't wait for later to take it. Remember, surveys are not always open to everyone. It could be location/demographic based.

7. Answer them thoroughly.

Speeding up free paid surveys can screen you out in a matter of seconds. Why? Because you didn't think out your answers. So answer intelligently and honestly.

8. Keep track of everything.

As much as possible make a list of surveys you join. And all the necessary information you think would be helpful to you. Why is this important? This will help you track your earnings,

know when do companies usually send new surveys, etc. Being aware of all the necessary information increases your earnings as well. As much as possible, include the following on the list

Name of the survey company
How many times do they send surveys in a week
How much did you earn in the past week for each survey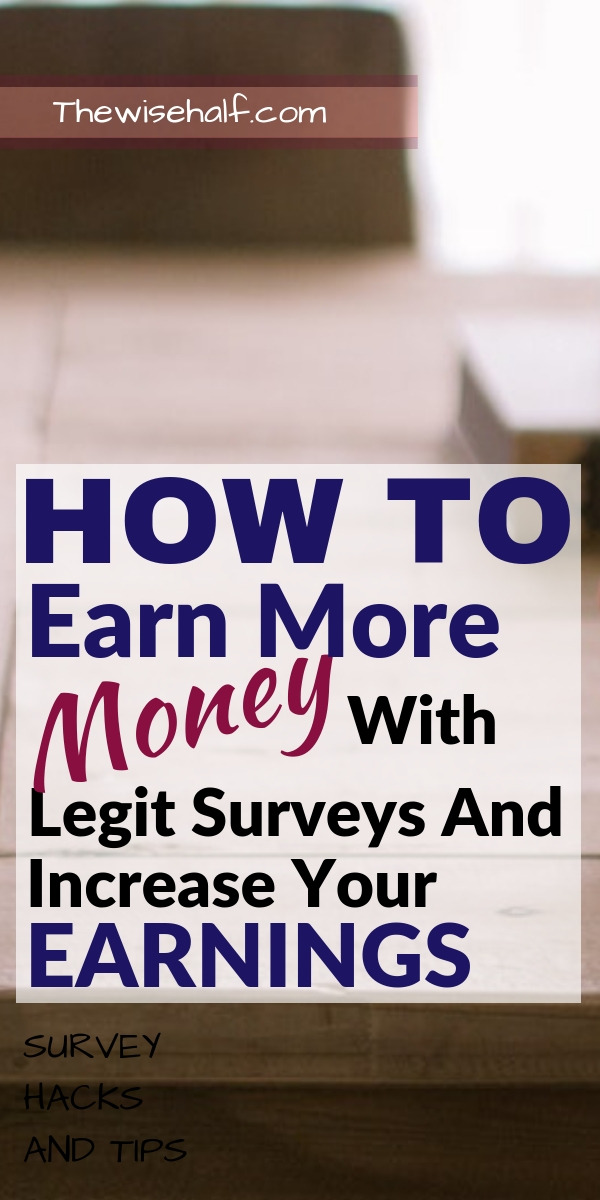 Here's a handful of legitimate free paid survey apps and sites that can help you start.

This particular survey app has a very high earning potential. But just like other surveys always remember that it still depends on you, your location and all other information you give on each company. Now in Vindale, you can earn from $5 up to $75 per survey.

Some people earn a lot from vindale while others complain about not getting enough. My tip is to not get frustrated when you get screened out of a survey. Remember that most surveys are location/ information based.

One survey maybe for you while some are meant for others, So as much as possible take all the available surveys, so you will get the max earnings per day.

Now for some survey apps earning opportunities comes from many aspects. I-Say has free paid surveys (of course) a loyalty program and you get to test products that you can keep. Ipsos-I-say also has great earning potential.

It has a very clean and unique platform that lets you know your earning potential as well as it's surveys are pretty easy. Being around for many years makes Ipsos a legitimate survey company.

Quick thoughts app is a pretty easy survey app, Most surveys are short surveys. But earning potential depends on the difficulty as well as the length of the survey. So better take advantage of all the available surveys and not just the short quick ones.

Remember that the number of opportunities for surveys given always depends on your location as well as the information you give in the company.


So to get the maximum earnings better input all the necessary information and complete them. So you will receive all the available opportunities related to your interests.

This survey app has been around for a while. They pay from $50 to $115 per survey depending on your location. But if you will notice the payout is very high which is why this survey app should be on your list.

Aside from the high potential earnings, you also have the chance to win expensive prizes. Although again the earnings per surveys could be very high. Remember that it's up to you to get the most out of each survey.

National consumer is quite different compared to other free paid surveys. It's a combination of taking surveys and scanning barcodes, it's like taking your daily grocery shopping routine and then scanning barcodes when you go home and earn rewards while doing them.

Being in the national consumer panel programs has its rewards and discounts on major retailers as well as the chance to choose a gift from their catalog.

One of the advantages of Opinion Outpost to other survey sites is its minimum payout which is pretty low, and so pretty easy to reach and to redeem. It's only $10 and you can easily redeem it through Paypal. But of course, if you choose to receive it through gift cards you can do so.

By the name itself, this survey company is available only in the US. It's one of the leading online market research communities in the US. Giving fellow Americans the opportunity to participate in surveys and discussions that will influence brands, products, and services we all use every day! You get paid for your views and the same time you'll get the chance to win $1000 just for signing up.
                                                                         
                                                                                                                                                             
Just like the previous survey companies on this list. My soapbox is legitimate and well known in the market research communities. You have a lot of opportunities to earn points. like surveys, Product testing, refer-a-friend program, etc. Once you reach 25,000 Points which is like $25 you can cash it out for prizes. After that, there is no minimum to redeem your prizes.

                                                                         
                                                                                                                                                             
I have to add this although this is more than just surveys. It's more like joining a research study. Why did I add this? The earning potential.

Did you know that more and more people are actually earning from respondent just by answering simple questions in their particular interest and/or profession?

Earnings are from $50 up to $200. Definitely worth of your time. If you haven't read my detailed review on Respondent.io. You're missing a lot. You can do so here.

Now, If you will notice I only list a handful of survey companies. Yes, there are literally hundreds of survey companies for you to choose from. But you need those who are already been in the industry for a long time and continuously help people and change for the better. Legitimacy is also the key.

Always remember that taking surveys is not a get-rich-quick scheme. But with the right companies, right strategies and patience it will definitely help you make ends meet.

If for some reasons, These surveys won't allow you to create an account. Don't be sad. I will make sure to write in my next post the best free paid surveys that are available worldwide.

If you want to know how you can start working from home for good and make more money than your current job.

Here are related posts that will help you begin your work from home journey :

How to start working from home
How to start a profitable blog and make money fast.
Photo by Andrea Natali on Unsplash