One of the many things that bore me when I was young was doing so much homework. One, two is fine but having homework on all subjects at the same time seems to be exasperating.
Don't get me wrong I do my homework it's just that when we were young, don't we all wish someone could give us a hand or a genie would grant you a wish so that you could easily do your homework? How lucky the millennials for having all these companies now.
But for stay-at-home parents, students, retired professionals, etc. Here's an interesting way to get paid to do homework for other people at the comfort of your own home. Check out this list of top companies that can help you earn money by answering questions, uploading lessons, and tutoring. And accepts both professionals and college-level applicants as tutors.
I have to begin with Chegg because it's been around for years and one of the most popular online tutoring school. chegg promises tutors $20/hour and you can get paid weekly which is perfect for students who need to make ends meet. They also have subject bonus incentives. Earnings can get up to $1000/ monthly.
They offer students thousands of subjects they could choose from. So Major topics of homework are surely covered. And one of the best parts of Chegg is that they accept tutors from around the globe. So Hurray!
Has been helping students since 2004. They provide one-on-one online tutoring with the same tutor. They believe that students learn faster when the tutor knows its strengths and weaknesses,
compared to those instant tutors that would just help their student with a particular homework. They also accept tutors from around the globe as long as they have excellent communication skills and strong subject knowledge.
Is looking for passionate about teaching and helping students to learn. You work with students and provide them with explanations to help them succeed in their courses. Tutors can earn an average o $500/ week or $2000 monthly. You don't need to be certified professional to become a tutor.
The company believes that experts take all forms. You just need to share sufficient credentials to prove you have expertise in the categories which you would like to tutor.
this cool mobile tutoring app is one of a kind. They not only provide answers to homework but they make sure students learn and get that a-ha! moment with their tutors.
They accept college level students as a tutor. It has a flexible schedule so it would fit your lifestyle. You are paid every minute and with bonus incentives. You can teach anytime anywhere. Applicants must first take a subject ex to determine their knowledge or if they would fit the job.
This brand new tutoring service provides round-the-clock homework help with the students. Tutors set their own rate from $15 up to $200 price per hour. You can choose your own schedule and this is available to all tutors worldwide. Students choose from a wide variety of subjects.
They also provide a very interactive teaching platform. It makes teaching convenient for both students and tutors. Tutors can also earn just by answering questions. ("Just Answer" section) Questions usually start with $2 and can go up to $25.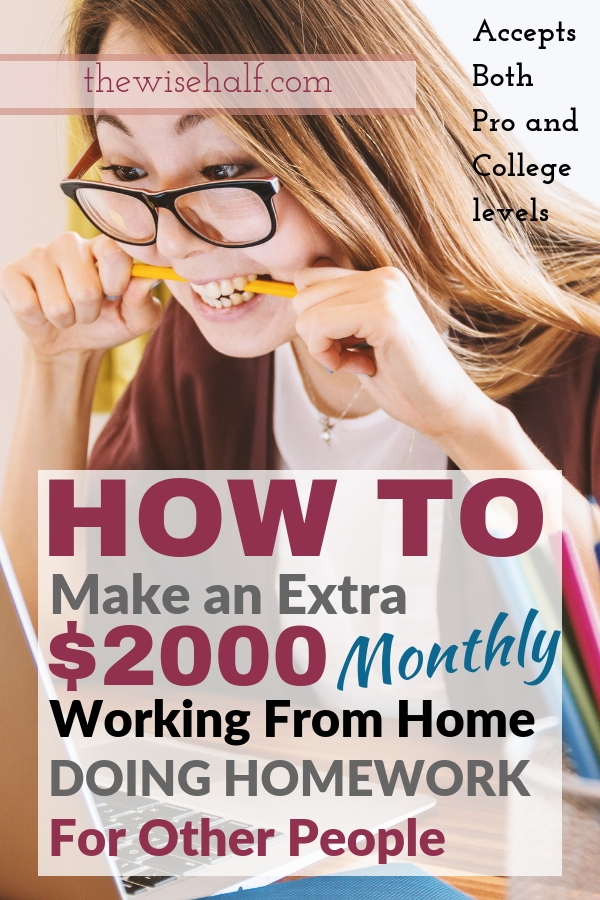 Help students with homework in Math, Physics, Biology and hundreds more including thesis help, college essay and so much more. If you have 2 years and more teaching experience and has a master's degree in your chosen field. This one's for you.
Here's another company that accepts college-level tutors. Pay rate starts $18/hour for basic academic subjects and $23/ hour on both ACT and SAT prep. Tutors must have a prior in-person or online tutoring experience with 6th to 12th graders.
Strong Math skills and ability to explain difficult concepts for 6th to 12th graders. So if you love Math (which I don't and don't have a single chance get accepted here lol) You should apply here)
Here's one interesting website you should definitely check out. A student would post a question and will post on how much he is willing to pay. A tutor can answer this question but the student can't see the full answer but just a preview. The reason? (Here's the best part).
When you answer a question School solver then submits it to top search engines. So, When somebody searches the same questions on google or bing, they will see a preview of your answer. Thousands of people will get an access to your answer. This will lead to getting paid " Multiple Times" So a $5 answer can get you $500 over time.
Is a website that provides high quality, secure and confidential University, College and High School level Academic Aid to students in need. They provide custom help Need to know e-books and Solution Library. Now how can you turn your knowledge into cash with Brain mass? Turn your expertise into ebooks or videos and Brainmass will help you monetize it.
Every time a student download your lesson you'll get Each time a solution is downloaded, the Academic Expert responsible for the solution will be eligible to earn 25% of the revenue that BrainMass receives. The idea of investing one's time and energy into a Library that creates "royalty-like" revenue is one of the most attractive aspects of the system for many graduate students.
Looking to make tutoring a full-time job? Here's one of the best choice. They are looking for tutors who have the expertise in MAth, Science and language. So If you are a teacher, professional, retired, etc. who just wants to continue teaching from home. This one's for you.
Aims to give students access to a unique set of tools that would unlock their potentials. They want to connect the students to geeks (Students, educators, and learning enthusiasts) If you want to be a geek( tutor) You can earn as much as $20/hour and you can work anywhere you want. Geekly lab will help you gain experience to showcase on your resume.
If you are a language teacher you may want to check this one out. They are looking for online or virtual language teachers and Face to face language teachers.
You must have certifications and two years of language teaching experience. They are looking for language teachers in the following languages: English, Spanish, Mandarin, Japanese, French, German, Portuguese, Russian and Italian.
By the company name itself, This company looks for tutors that will guide kindergarten kids up to 12th grade. Their mission is to provide all learners the opportunity to grow, regardless of their background, or situation, with a program personalized for them. I really think this is one of the best mission I've heard so far. They give a specific schedule for tutors. You can either work full time or remotely.
Learning all this. You might be thinking how lucky the children of this era for homework are can be easily found over the internet and they have 24/7 access to get help from tutors with any expertise from around the globe.
But, Hey look at the brighter side. We are also lucky.
We have the internet provide us the jobs in the comfort of our own home. All we need to do is be smart, Use the talent and skills that we have, Help students with their academic needs, In the end, we feel good for helping these kids at the same time we earn decent money.
Related Articles:
How to get started teaching English online w/or w/out a degree.
Big List of online English schools for all.
How to teach English if you have zero experience
Photos by Naassom Azevedo and JESHOOTS.COM on Unsplash